Summer Hours
The office will be open Tuesday, Wednesday and Thursday from 10am-5pm.
The Autism Calgary Office will be closed August 1-14.
Family Support will be available by appointment only.
Emails and phone messages left at info [at] autismcalgary [dot] com and on the general voice mail at 403-250-5033 ext 0 will be listened to and answered periodically during the 2 week closure.
Support Groups* will resume in September.
Stay tuned for more information.
*The Aspergers Support Network will continue to meet in July and August on the first and third Thursday from 7-9pm at the Autism Calgary Office 3639 – 26th Street NE.
How can I help a person with special needs have the best life possible?
Here are some things to consider:
1)A Good Doctor: Having a supportive doctor who listens can make all the difference to a family. Find one that is knowledgeable at giving referrals to specialists for matters they can't deal with, can see you quickly when problems arise, and can offer help with difficult problems from sleep disturbances to challenging behaviors. A doctor also needs to sign the Disability Tax Credit form (T2201 form).
2)Start a Registered Disability Savings Plan (RDSP): Established in 2008, contributions to an RDSP can be made until the disabled person is 59. Click here for more information.
3)Connect with a Support Group: A support group can be a great resource for information. It can also be a place to vent and not be questioned about why you feel a certain way. Talking to others in a similar situation can be comforting. You'll meet people who have dealt with issues you are facing and can hear how they tackled them. We have a list of groups in our resources section.
4)The Local Library: Libraries are more than just a great place to find books and other resources like DVD's. Libraries can order in books they don't have at their branch, offer free talks, and have community programs. Our local library offers the Story Pals program where reluctant readers practice reading aloud to a dog. This program has changed my daughter's life –she has lost her phobia of dogs and her language skills have improved.
5)Establish Good Home/School Communication: During the school years, a child spends a good part of their day at school so it is important to know what is going on. Keep communication lines open between parents and teachers. Remain calm when things go wrong and try not to assign blame. Work as a team on issues that arise.
6)Attend Conferences and Workshops: Conferences and workshop opportunities are a great place to network and meet professionals, parents and learn about different resources. Hearing a professional speak about an aspect of special needs can broaden your information base and also provides an opportunity to ask questions face to face. We host autism related conferences and training across the country and in Europe on a variety of topics each year.
7)Get Involved in Community Activities: Participate in inclusive community activities so that the individual can meet their peer group and other adults. You can often make important connections in the community and find people for respite care, job opportunities or volunteer positions.
8)Volunteer: Another great way to meet people and create another sense of community. Volunteer opportunities are available through organizations, sports groups, churches and community events. Read your local community circular or recreation centre brochure to find out where volunteers are needed.
9)Make a Will: Don't leave things to chance. Consult with a lawyer who is familiar with will and estates and the implications around special needs. Find out more information about how to estate plan for children with disabilities.
10)Investigate Adult Services Early: Even if your child is not an adult yet, start investigating adult services. It takes a long time to become familiar with the paperwork and how to access services. Starting this process close to adulthood doesn't leave enough time to connect with the right people or agencies.
11)Travel: Although a long trip with flights may not be possible, try shorter travel trips or even day trips. It's important to see new things and learn to cope with new situations. Nowhere in life does everything stay the same. For more information on travel tips for children with disabilities click here.
12)Try New Things: Even though this can be stressful, change is what life is made of. Exposure to new things can create a new interest or passion. You won't know until you try. A new experience may not go well the first time, but subsequent exposures may lessen stress. My daughter cried at her first Story Pals session, but by the third session she was really enjoying it.
These are just a few ideas to keep in mind. The bigger the community surrounding the child or adult, the more opportunity there is for success. People connected to an individual increases the likelihood that they will take an interest in their well being. The saying "It takes a village to raise a child" really is true.
Autism Calgary  will be having a booth at ArtWalk (an event for local artists on Stephen Avenue put on by Canadian Artists for the Poor). Any artists who are on the Autism Spectrum who would like to contribute art of any kind are encouraged. It can be donated (proceeds of the sale going to Autism Calgary) or we can do a profit share with professional or semi-professional artists.
For more information on this event, please visit: http://www.artistsforthepoor.ca/
If you would like to contribute, please contact Maria at maria [at] autismcalgary [dot] com
Map of Stephen Ave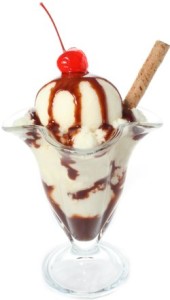 Come for an open house at our new office.  What a great way to celebrate (or perhaps survive) the end of June transition blues!
Bring your family and join others for a tour, activities, Ice Cream Sundae's and our brief (but important) Annual General Meeting.
Monday June 27 at 7:00pm at the Autism Calgary Office;  3639 26 Street NE Calgary T1Y 5E1. (Park at the north side of the building.)
Tours and activities, plus Ice Cream Sundaes with add-your-own toppings will be provided to all active Autism Calgary Members and their Families.  You may renew your membership too (memberships are free or by voluntary donation.)  Please take a moment to get tickets (one ticket for each Ice Cream Sundae or GFCF equivalent…)
The Agenda for our Brief (five to ten minute) Annual General Meeting will be as follows:
To receive the annual report of the board to the members and financial statements. (Jan.1 2014-Dec.31 2014, Jan.1 2015-Dec.31 2015)

To elect members of the board for the ensuing year

Daria Skibington-Roffel (Chair)
Eric Stearns (Vice Chair)
Mark Rathwell (Secretary)
Dan Tran (Treasurer)
Geoff Carrington
Nicole Carrington
Kavanagh Mannas
Puja Suri
Charlene Wright

To appoint MNP, Chartered Accountants as auditors of the Association, at a remuneration to be fixed by the board
To transact such other business as may be properly before the meeting.
Tours, Activities & Ice Cream Sundae's for you and your family will be served following the meeting (held at 7:00pm or thereafter when we reach quorum.)
See you there!