February 2015
By Maureen Bennie
---
Member,
Autism Calgary Community
Director,
Autism Awareness Centre Inc.
---
Many individuals with autism enjoy using tech devices such as tablets and the iPhone, but a new study shows that their use at night can cause sleep disturbances due to reduced levels of melatonin. Melatonin is a hormone that typically increases in the evening and helps induce sleepiness.
"During a two-week inpatient experiment involving a dozen adults, some participants were asked to read on an iPad for four hours each night before bedtime, for five consecutive nights. Others read printed books in dim light. After a week, the groups switched." The results – participants using iPads had reduced levels of melatonin, took longer to fall asleep, and spent less time in restorative rapid-eye movement sleep.
As electronic devices become more prevalent, we could see a rise in long-term health issues due to a significant loss of sleep. For example, a persistent lack of sleep has been associated with obesity and diabetes.
While this study did not involve people with ASD, it is a cautionary tale as this population often experiences sleep difficulties. It is important to have a regular routine around bedtime that involves bathing at least one hour before bed, low arousal activities, a dark room to sleep in, and limiting the use of tech devices before bed.
The results of the largest autism study using whole genome sequencing discovered no two persons with autism are the same even if they are siblings with the same diagnosis. There is a large genetic diversity in autism.
Dr. Stephen Scherer from Toronto's Hospital for Sick Children said, "We already knew that there are many differences between autism cases, but our recent findings firmly nail that down. It shows that a full assessment of each individual's genome is needed to determine how to best use knowledge of their own genetic makeup for autism treatment." To read more, click here.
On the flip side of research, John Elder Robison, adult with Asperger Syndrome, wrote an opinion piece about autism research and how it has failed those on the spectrum. John says, "Research into the genetic and biological foundations of autism is surely worthwhile, but it's a long-term game (see "Solving the Autism Puzzle"). The time from discovery to deployment of an approved therapy is measured in decades, while the autism community needs help right away." John went on to say we if we accept that autistic people are neurologically different rather than sick, then the research goal can be about helping people with autism achieve their best quality of life.
Pediatricians may miss signs of autism because check-ups are too brief. A typical 10 – 20 minute pediatric exam is not enough time to see potential signs of autism. During a doctor's visit, many children with autism display mostly typical behavior and may fail to receive a referral for further autism testing, even if a few autism symptoms are noticed.
A "study in Pediatrics looked at children 15-33 months old, with autism experts analyzing 10-minute videos of the children's behaviors during evaluation in a clinical setting. Children with autism, speech delays and typical children were included. The researchers wanted to document the ratio of typical behaviors vs. atypical behaviors exhibited and the corresponding referral decisions based on the observations. They found that within the brief timeframe of 10 minutes, children with autism exhibited much more typical behavior than atypical behavior overall, making it easy for clinicians to miss detecting autism risk. In the study, even the experts who reviewed the videos missed referrals for 39 percent of the children with autism, based on the brief observation alone."
With early intervention being the key to more successful outcomes in autism, it's important to develop a comprehensive screening process. Parents and care providers need to work together to pinpoint early signs and symptoms of autism. Parents see their own child the most but also need to be educated about potential warning signs. To read the entire article, click here.
The Globe and Mail published a fascinating article on inflammation, the brain, and autoimmune disorders. Kelly O'Donnell, a mom of a 7 year old daughter, watched her descend into what appeared to be Tourette Syndrome. Doctors suspected O'Donnell's daughter was suffering a little-known condition brought on by a streptococcal infection and did a test. It was believed she had Pediatric Autoimmune Neuropsychiatric Disorders Associated with Streptococcal Infections, or PANDAS. Antibiotics brought her back to normal.
Scientists have been accumulating evidence "to suggest that infection, autoimmune diseases and environmental factors such as stress or diet can trigger the immune system to go awry, causing it to damage the brain instead of attacking foreign pathogens. The result: an array of psychiatric conditions, including schizophrenia, autism spectrum disorder, Alzheimer's disease, depression and anorexia nervosa."
This evidence does not say immune responses are at the root of all psychiatric cases, but that common mental illnesses have multiple causes. "Anything that your immune system sees as an invader, whether it's gluten or a bee sting or whatever, or a virus or a bacteria, you now have to be careful and watching for almost a mental health symptom," O'Donnell says.
This new theory could have a positive impact for those with ASD, many of whom present with co-morbid conditions ranging from mental health issues to GI tract disturbances.
While not everyone is a fan of Facebook, it has had a positive impact for parents of special needs children. It has become a global way to share new discoveries and find support with other parents who are experiencing the same difficulties. For those suffering from rare disorders, Facebook has become a meeting place for these families that otherwise would never have known about others in the same boat.
Huffington Post Parents posted an excellent opinion piece by a mom who was able to find a community through Facebook. There are some great Facebook pages out there to join that are truly helpful. It has been a great tool for formerly isolated parents.
Nonverbal individuals with autism are giving us valuable insight on how they experience the world. UK resident Sophie Webster wrote a post about sensory overload. "When I get sensory overload it's like I have 100 buzzing bees in my head, and my head hurts a lot and feels like it will go bang! like a balloon. It's the most uncomfortable thing ever. I bang my head on things to try and relieve the pressure in my head, to try and stop the feeling. While I'm experiencing sensory overload, I find it hard to talk or make any sentences."
Sophie received her first communication app in 2011 and she's never looked back. She can now share her experiences with the wider world, giving us an opportunity to better understand what she is going through. Better communication can lead to effective and appropriate support.
Need to work on fine motor skills? Have a look at this article that provides 8 fun ways to strengthen fine motor skills. All of the activities use simple, inexpensive items that are readily available.
Judy Endow is a prolific writer about autism topics. She is a 60 year old woman on the spectrum and a great friend of mine. She was recently told by a parent that she was "not significantly enough affected by autism to be able to understand real autism" and therefore should stop speaking out about autism. You can't look at a person and judge them by how they express themselves, which Judy does very well. She has had a long list of struggles related to being autistic. In Judy's words, "Autism is a spectrum. There is no experience of autism that is more real than another experience of autism. All autism is real." To read this excellent blog post, click here.
Thinking about starting a gluten-free/casein free diet and want to learn more about it? Autism: Exploring the Benefits of a Gluten- and Casein-Free Diet offers parents, teachers, and other education or health professionals an easy-to-read alternative to sifting through the combined science. Written by leading experts in autism research, food, nutrition and dietetics, the book cuts through the jargon to offer readers a no-nonsense, accessible and authoritative overview of how diet might affect some characteristics of autism, and provides a range of useful recipes and handy hints for making mealtimes fun for children with autism and related conditions who are embarking on such a dietary change.
Emotions are complex and not always easy to understand. Children need help finding the words to describe how they're feeling. F Is for Feelings, a friendly and positive alphabet book, gives children those "feelings words," and explores the idea that while some feelings are more comfortable than others, all are natural and important. F Is for Feelings invites children to share, express, and embrace their emotions—every day! A section in the back provides tips and activities for parents and caregivers to reinforce the themes and lessons of the book.
These are the highlights of what in the world is going on in autism for February 2015.
The Community Education Service is pleased to present the following sessions: (click on titles or url)
Childhood Epilepsy  (available via Video Conference/Audioline)
Picky Eating in Children  (not available via Video Conference/Audioline)
Street Drugs  ( not available via Video Conference/Audioline)
Videogame Use and Abuse  (not available via Video Conference/Audioline)
Art Therapy  (available via Video Conference/Audioline)
 Click link below to register: (to register for VC/audioline, see directions on poster)
***CES sessions are not intended to have children brought to them, they are for adult learning and for you to convey the tools and strategies learnt therein.***
http://fcrc.albertahealthservices.ca/course_registration/public_course_list.php    
(click here) January 2015 Newsletter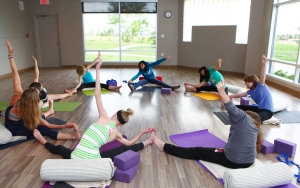 The class is intended for special needs teens to attend with a parent or caregiver and focuses on providing a positive social atmosphere for peer relationships and to deepen the relationship with the caregiver.  It is a gentle yoga class to develop core strength and flexibility and also provides a de-stress opportunity for parents and caregivers.
The numbers are kept low in the class to ensure the participants are supported and at ease.
The eight week class begins on
January 12, 2015
and runs until
March 16th
(no classes on
Jan 26
or
Feb 16th
)
Class Location:  Edgemont Community Center – Mountain View Room
Class Date & Time:  Mondays from  
7:45 – 8:45 pm
You may bring your own mat – although we have mats at the facility and all other props required.
Cost:  $ 135 per person + GST – must register with a parent or caregiver – other family members are welcome to attend.
January 2015
By Maureen Bennie
---
Member,
Autism Calgary Community
Director,
Autism Awareness Centre Inc.
---
As we kick off the New Year, what will be the focus or trends in autism for 2015? Hopefully, the voices of those on the spectrum will become stronger, heard more often, and taken seriously. It's time to build services around what people want and need. We should not be fitting people into existing services that don't work for them or reflect their values.
Social media and the web will continue to offer people on the spectrum platforms for expressing their views. Never before have we had access to so many different first-hand accounts and opinions. Hearing these viewpoints can help us alter our behavior and become more cognizant of how we talk about people with autism matters.
Genetic research is making huge strides due to advances in technology. A research team led by computer engineers at the University of Toronto has developed a biological browser, a first-of-its-kind filtering technology, to sort genetic coding. This could have direct impact in the autism field.
"In a study published online on Thursday in the journal Science Express, the Toronto researchers report that their system accurately confirmed 94 per cent of the known genetic culprits behind well-studied diseases without any information related to the patients or their conditions. It also discovered new genetic mutations linked to colorectal and pancreatic cancers, spinal muscular atrophy (a leading cause of infant mortality), and most dramatically, 39 genes never before linked to autism." To read more about this new technology, click here.
Inflammation has been known to exist in the gut and other parts of the body of those with autism. A new collaborative study between John Hopkins and the University of Alabama has discovered that the microglial cell, which polices the brain for pathogens and other threats, appears to be perpetually activated in the brains of those with autism — and the genes for inflammation responses are then turned on.
"Given the known genetic contributors to autism, inflammation is unlikely to be its root cause," Dr. Dan Arking said. "Rather, this is a downstream consequence of upstream gene mutation."
So what does this mean? The next step may be treating the inflammation to see if the symptoms of autism improve. To read more about these findings, click here.
Two new studies published in September explored the link between autism and aggression. The first study, published in Research in Autism Spectrum Disorders, found that one in four children with autism displays aggressive behavior. They tended to have milder autism and low IQ's. Children with significant aggressive behavior also tended to have mood and anxiety symptoms, sleep difficulties, and paying attention.
The second study, published in Autism, explored possible pathways to aggressive behavior in undergraduate students who do not have autism. Social anxiety and dwelling on negative, hostile feelings predicted verbal and physical aggression.  People with cognitive preservation (talking about the same thing over and over) tend to dwell on negative feelings. Perseveration is a feature of autism. While aggression is more linked to certain psychiatric disorders such as depression, schizoaffective disorder and social phobia than to autism, people on the spectrum can exhibit aggression due to rumination, sleep deprivation, sensory overload, and attention difficulties. To learn more about these studies, click here.
Regular exercise is essential to good health, but did you know it can help a person with autism self-regulate and manage stress? Coach Dave Geslak has created exercise programs for people on the spectrum using structure and visual supports. The Exercise Connection emphasizes these five points:
Body Image
Posture
Motor Coordination
Muscular Fitness
Cardiovascular Fitness
Geslak is also the author of a new fitness book called The Autism Fitness Handbook: An Exercise Program to Boost Body Image, Motor Skills, Posture and Confidence in Children and Teens with Autism Spectrum Disorder. Designed to address specific areas of difficulty for children, teens and young adults with autism spectrum disorder (ASD), the 46 exercises in this comprehensive program are proven to improve body image, motor coordination, posture, muscular and cardiovascular fitness. The boost to confidence, relationships and general wellbeing resulting from this will be transformative for individuals with ASD and their families.
To read more about this exercise program and its benefits, click here.
My most read post this past month on Facebook was by a person with Asperger Syndrome named M. Kelter. The article was about social skills training and managing negativity. Kelter says we need to stop thinking about social skills training as either good or bad, but rather ask these three questions:
"Is the goal of the training to normalize (for the sake of others) or empower (for the sake of the autistic)?"
"Who is defining the goals? The autistic or someone else (parents, teachers, etc.)?"
"Is the process humane and respectful?"
Kelter states, "For social skills training to work and be a beneficial process, it has to be oriented towards the person on the spectrum…who they are, what they want, and it has to be a good fit for their unique needs and personality." We have to move away from creating programs and trying to slot people into those programs.
The other question Kelter tackled was about negative feelings about being on the spectrum. There were 3 reasons discussed about why some people choose to be positive about life on the spectrum. The insight is just brilliant and well expressed. Read this well written piece and you'll see why it was so popular.
Teaching safety skills could save a child's life; however, these are complex skills that require a specific type teaching for people with autism. Canadian Sarah Kupferschmidt wrote an article about teaching street skills. She breaks the task down into 5 tips. To learn more, click here.
On the technology front, Digital Learning Tree featured an article highlighting the best Autism Education iPad apps. The apps are listed by topic. Digital Learning Tree is a site created by teachers for teachers and is dedicated to progressive and inclusive education – lots of freebies on this site, on-line course, resources, and ways to collaborate on-line.
Medical appointments can be daunting, confusing and anxiety provoking for parents of children with special needs. Parent Karen Wang wrote a piece on how to improve communication with your pediatrician. These 10 points could make your next doctor's appointment more productive.
It's important to give our children on the spectrum ample opportunities to try new things and have different experiences. We can never predict what our children will end up liking or developing an interest in. Take Philip Martin-Nelson, now 20, diagnosed with severe autism in early childhood. At the age of 6, his mother enrolled him in a ballet class. Ballet was the thing that clicked for him and Phillip is now a principal dancer at Les Ballets Trockadero de Monte Carlo. To see a video of Phillip and learn more about his journey into dance, click here.
Awareness about the importance of self-regulation is on the rise. The new book Asanas for Autism and Special Needs: Yoga to Help Children with their Emotions, Self-Regulation and Body Awareness teaches yoga to children with Autism Spectrum Disorder and other special needs using visuals.
Breaking down yoga instruction pose by pose, body part by body part, breath by breath, this book uses easy-to-understand language and clear photographs to show parents, teachers, yoga instructors, and other professionals how to introduce the life-long benefits of yoga to a child with special needs. These benefits include gaining greater awareness and understanding of the body, learning to self-regulate the nervous system, and developing coping skills to work through difficult emotions such as anger and anxiety. Creative yoga games, activities, relaxation exercises, and chair yoga poses are included to make learning yoga a fun, interactive, and calming experience for children with a wide range of abilities.
These are the highlights of what in the world is going on in autism for January 2015.
The Transitional Vocational Program has one full time program and various part time programs for adults with developmental disabilities at Mount Royal University. If your family is interested,  please sign up. For more information click on blog's title and then here: