Donate
Thank you for visiting our donation page!  Autism Calgary only exists due to the generosity of its members and the community. A big thank you from the Autism Calgary family for considering giving to us!
Below are the options for donating online to Autism Calgary with convenient buttons:
---

---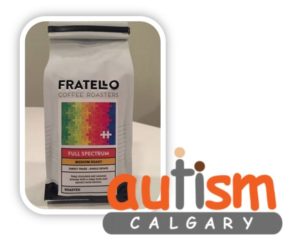 Fratello Coffee is partnering with Autism Calgary to release their limited time only blend—"Full Spectrum Blend" in honor of Autism Awareness Day!  For only $20 you can get a bag of this sumptuous roast. Your morning cup of joe will taste even better knowing you supported families living with autism in Calgary!
---
Donations via Regular Mail or over the Phone
Click here for our donation form: Online Donation Form pdf
Please note when using VISA or MCD we require your card number, expiry date, the name on card and the Card Security Code or the Card Verification Value (the three digit number on the back of the card) as well as contact information.
Receipts for income tax will be issued for donations over $15 unless otherwise requested.
We do not accept credit card information via fax in order to secure your data.
---
Why Donate to ACA?
Your support contributes to:
Increased public and professional awareness of Autism Spectrum Disorders (ASD) and related disorders
Family support services which provide comfort and information to families living with ASD and related disorders, for children and adults.
Education and awareness for school children, professionals and paraprofessionals.
ACA bringing in guest speakers, offering recreation groups, holding special events and offering drop-in information and support meetings.
Helping ACA speak for the needs of families and individuals with ASD.
Everyone can afford to be a member!
Membership is free with a optional donation that is more than welcome.
To become a member of to learn about the benefits of membership visit our Membership Page.