World Autism Awareness Day (WAAD) April 2, 2017
2017 World Autism Awareness Day Celebration
April 2, 2017
11am – 2pm
Free family fun for all ages! Come for bubble blowing, face painting, bouncy castles and to show your support for those living with Autism Spectrum Disorder!
Special guest appearance by Michael McCreary .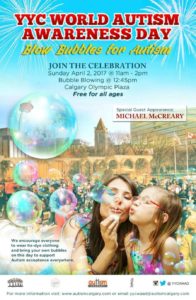 For more information or media inquiries please contact Lyndon Parakin, Executive Director at lyndon [at] autismcalgary [dot] com

---
VOLUNTEERING OPPORTUNITIES:
Since this is a collaborative community event, AAFS & Autism Calgary are looking for amazing volunteers for YYC WAAD at Olympic Plaza on April 2nd, 2017!
Contact: yycwaad [at] autismcalgary [dot] com as soon as possible with name, phone number and email please.
Volunteering is from 10am-3pm for most. A few volunteers are needed to help for "set up" at 9am and/or "take-down" at 2pm, preferably with vehicles. Details on job duties to follow.
We will soon be in touch with the volunteer applicants!
---
APRIL FUNDRAISERS
Because April 2nd is World Autism Awareness Day the month of April often inspires a lot of community development and fund development in Calgary's Autism Community. Here are some of the initiatives going on that you can support!!