Autism Presentations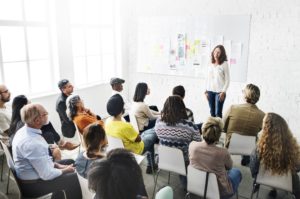 We are thrilled to announce that we are providing Community, School and Employee/Employer presentations thanks to our wonderful volunteer Presentations Coordinator and our dedicated volunteer presenters.
Our presenters offer an introduction to Autism Spectrum Disorder (ASD). The presentation will focus on such things as:
What is ASD? What does it feel like to have ASD?
Common challenges and strengths of individuals with ASD
How can I assist individuals with ASD? How can be a good friend/co-worker?
How can I help someone with ASD during a difficult situation?
Myths about ASD
The presentations are conducted by volunteers who are keen in sharing their experiences.
If you would like to move forward and have Autism Calgary provide a presentation, we will need to know who we will be presenting to and how many people.  We would then coordinate with the presenter and finalize a time and date with all parties involved.
We would also like to mention that our presentations do come at a cost to us, usually in the realm of $150.00 and we would therefore gratefully accept any donation towards this expense, whenever possible.  However, should this present a hardship, we would still gladly provide the presentation, as we are committed to this important cause.
To request a Community, School or Employee/Employer presentation please complete the online presentation request form by clicking here.