DISABILITY ID CARDS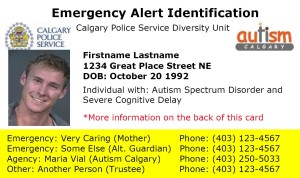 With active representation on the Chief of Police Disability Advisory Committee, Autism Calgary is pleased to offer Emergency Alert Identification cards for individuals and families living with Autism Spectrum Disorder. A card can be issued for the individual with ASD and to a supportive caregiver.  The cards provide basic emergency information on the front, and individualized support information on the back.  The intent is to guide first responders in providing the best care and support to our community. This is a pilot program, initially being offered by organizations directly represented on the advisory committee.  For individuals with Autism Spectrum Disorder, there are currently two resources for obtaining these cards.  On request, the Ability Hub will issue cards to individuals that have been registered with their programs and services.  On request, Autism Calgary will issue cards to individuals and families in our membership. Needless to say, we are providing this as a charitable service but welcome voluntary donations of $2 to $5 per card to assist with cost recovery of the card printer and stock.
To obtain a card through Autism Calgary: send  a request to our Family Support Worker, Tracy at  (Tracy [at] autismcalgary [dot] com or leave a message at 403-250-5033 x 225).  Tracy will forward a form to gather preliminary information and then set up an appointment for you to come to our office to issue the card.  The appointment may take up to 30 minutes or longer.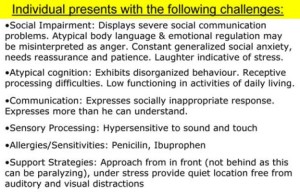 What can you put on the cards?  Autism Calgary has run independent trials of ASD Emergency Alert Identification cards in recent two years.  Depending on individual circumstances, the cards proved to be beneficial for a variety of circumstances.  For example some higher functioning adults found the cards helpful in guiding urgent centre care staff who previously doubted the diagnosis or misunderstood  visible symptoms or stigmas.   Another example, the family of a non verbal individual with Autism obtained two cards, one for the individual with Autism, another for the caregiver. In the event of an emergency, the caregiver card can alert first responders that there may be a family member with Autism at home, or in the car in need of specialized  support.  While staying withing guidelines of the program, the information can be customized to individual and family circumstances.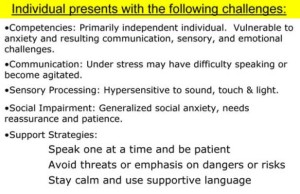 Other projects of the Committee: Note that Autism Calgary has represented individuals and families living with Autism Spectrum Disorder for more than five years.  As a result of our strong working relationship, we have been providing police with feedback in regards to challenges individuals and families face living in the Calgary community.  This has also provided us opportunities to provide Autism education and awareness workshops through the diversity unit's annual Diversity Level II training program.  In 2010 we were pleased to welcome Chief Hansen to provide the introduction of international first responder safety specialist Dennis Debbaust at our 2010 conference hosted jointly by Autism Calgary and Autism Canada Foundation.  This identification card is one of the more recent projects of the committee.  Currently the committee is also supporting the Police to investigate a disability registry system.  (Perhaps analogous to two existing voluntary Autism registries used in other urban Canadian centers.)
To help us in bring ideas or concerns to the Calgary Police Chief's Disability Advisory Committee, please send your ideas to Tracy at tracy [at] autismcalgary [dot] com.